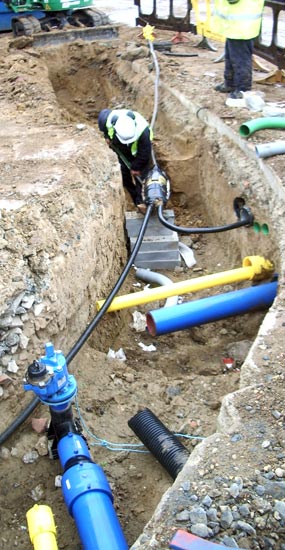 Project Summary
It is estimated that up to 4 million holes are cut into the UK road network each year in order to install or repair buried service pipes and cables. Failure to identify accurately the location of existing buried assets results in numerous practical problems, costs and dangers for utility owners, contractors and road users. Mapping the Underworld seeks to develop the means to locate, map in 3-D and record, using a single shared multi-sensor platform, the position of all buried utility assets without excavation.
» 25 year Vision!
» MTU Brochure
» Click here to watch the MTU animated video
Research began on the full research project to develop a multi-sensor location device, as part of the Mapping the Underworld Programme, in November 2008.
This project aims to build on the promising results of a feasibility study and use every possible advantage to see through the ground and focus on the targets. The research into the multi-sensor device is subdivided into eight complementary Work Packages, all of which focus on the device's creation and performance assessment. This project is made possible by a four-year ~£3.5M grant from the Engineering and Physical Sciences Research Council (EPSRC)
For more information, click here